VAST™
VAST Platform Overview
Union Biometrica continues to develop new tools for model organism research and as a member of the zebrafish research community we are delighted to preview with you a completely new instrument platform that we are introducing in early 2013. Based on technology from the Yanik Lab at MIT1,2, VAST BioImager allows even the most demanding zebrafish handling and cellular-resolution imaging tasks for high-throughput high-content screens to be automatically performed using zebrafish larvae.
This new platform is designed for zebrafish researchers who are interested in high-resolution imaging of large numbers of 2-7 day old zebrafish larvae. VAST BioImager is a modular, configurable and expandable platform that can grow with your research needs and budget.
Fully-automated orientation of zebrafish larvae


Reproduced from Lab Chip, 2012, 12, 711 with permission from The Royal Society of Chemistry.
Base System for Whole Zebrafish Organ-level Imaging
The base VAST BioImager system is for whole zebrafish organ-level bright field imaging of 2-7 dpf sedated larvae. The system loads, positions laterally then rotates a larva in the field of view of the on-board 10µm resolution camera for imaging any desired organ. Using the PC mouse the operator captures an image then ejects and loads another larva from a bulk reservoir. The operator is able to select the desired rotational angle once and then all the remaining larvae will be automatically rotated to the same desired imaging orientation using pattern recognition algorithms. Automating the positioning prior to imaging avoids time consuming and tedious manual manipulation of the larvae. This manual mode allows dispensing into either of two receptacles.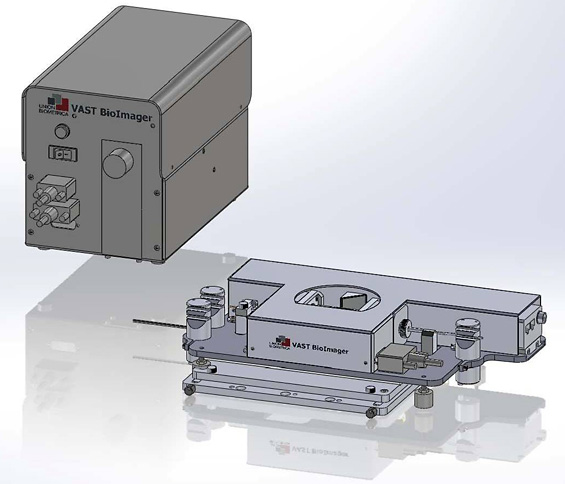 Union Biometrica's VAST BioImager System uses underlying technology invented in the Yanik Labs at the Massachusetts Institute of Technology and licensed from Entera Pharmaceuticals, Inc.
1.
Nature Methods, 2010, 7 600-601 and 634-636, Carlos Pardo-Martin, Tsung-Yao Chang, Bryan Kyo Koo, Cody L Gilleland, Steven C Wasserman and Mehmet Fatih Yanik
2.
Lab Chip, 2012, 12 711-716, Tsung-Yao Chang, Carlos Pardo-Martin, Amin Allalou, Carolina W
ä
hlby and Mehmet Fatih Yanik